UK Company Formation from £16.95
+ vat
Check if your chosen name is available..
What information will I need?
Great news! Your chosen name is available.
Scroll down to select a formation package.
This name appears to be in conflict with one or more registered names at Companies House
You may proceed however you will need to provide a name that is unique before you can complete your application. Companies House are unlikely to accept this name due to the following similar/same as names:
BASIC

Digital

STANDARD

Print

EXECUTIVE

All Inclusive

GUARANTEE

Non-profits

£16.95
£27.99
£54.99
£44.99

Digital certificate of incorporation (PDF)

Digital copy of the Memorandum and Articles

Digital share certificates

Average 3-6 hour turnaround

Optional bank account (Barclays, Tide, Anna and more)

Free e-filing software for future updates

Free accounts filing reminders

Real time order tracking

A free .co.uk or .com, web page & email mailbox

Printed Certificate of Incorporation

Two bound copies of your Memorandum and Articles

12 months free QuickFile Accounting Software Subscription (worth £72)

Plier style company seal

First board minutes

Full set of resolutions for common procedures

Suitable for non-profit (e.g. charities, clubs and voluntary organisations)

Start

Application

Start

Application

Start

Application

Start

Application

Basic help
Standard help
Executive help
Guarantee help
The Company Wizard can also help you to form any one of the following types of company, click the relevant link for more details
Protect your home address with a London Registered Office Address on Regent Street. All Companies House and HMRC mail will be forwarded to an address of your choice free of charge (within the UK).
Looking for assistance forming a UK company from overseas? We can assist you with a virtual address, mail forwarding, registering for local taxes and staying on top of your annual filing duties.

Simple online wizard
Forming a limited company is simple using our online company formation wizard. When you complete each area the corresponding tab will light up green. Don't worry if you haven't got all the information to hand, we automatically save as you go along.
Once your company is registered (usually within 3-6 working hours) we will email you your certificate of incorporation and the memorandum and articles.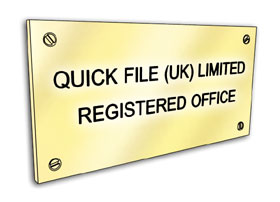 Everything you need for a startup
Whatever you need for your new startup The Company Formation Wizard can help you out. We provide company seals, name plates, template packs and statutory registers.
We work alongside Barclays to help you setup a business bank account. We can also provide you with a free online accounting system through our sister company QuickFile.

Forming a limited company in 3 easy steps!
The Company Wizard online application breaks down the company formation process into 3 easy steps.
Search for your company name. We will check to see if the company you wish to incorporate is available to register. We also provide free assistance and documents supporting your application should you include a sensitive word in the name
Complete our online application. We'll save the information you enter as you go along so you can return later should you need to gather more information. If you need assistance or have any questions, feel free to call us and we'll be more than happy to assist you. When you complete each section it will light up green.
When you're ready to submit your application you can make a secure online payment, we will then send your application electronically to Companies House. Typically it will take around 3-6 working hours to complete the company formation process. We will then email you a PDF of your incorporation certificate along with your Articles of Association.
If you'd like to see a preview of the company registration process in more detail
take a look here
. To find out what you will need before you get started
take a look at our FAQ here
.
Latest Blog Entries
| | |
| --- | --- |
| | Autumn Statement 2023 in review |
| | There comes a time in business when you need to pass the torch to another person. This may be because of retirement, or just not wanting to shoulder the responsibility any longer. |
| | When you set up a limited company, you must provide a registered address to Companies House, HMRC and any other government body that requires it. But what is a registered address, and are there any rules regarding which address can be used? |
| | This post is designed to help you if you've chosen to set up a Limited Company but want to ensure you set it up correctly. |
| | Your vision statement should describe the long-term result of your business's efforts and whether you have any values you want to convey. |